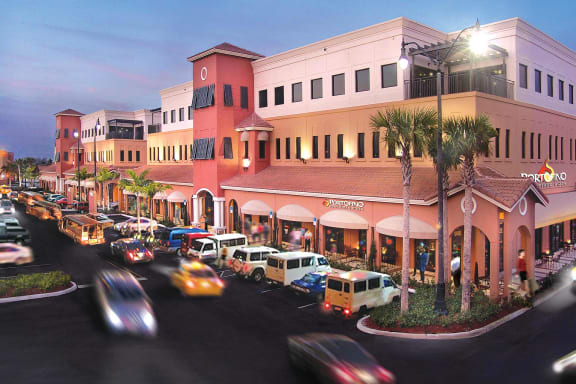 Homestead's Landmark, Retail, Office, & Dining Destination
Look for Portofino Plaza's landmark red towers, awning covered walkways and friendly vendors in the SW corner of Florida Turnpike Exit #2 and Campbell Drive in Homestead, Florida. Lease high visibility from the Florida Turnpike, high traffic at Exit #2 Campbell Drive, high growth location.
As Florida grows, so does Homestead as an economic powerhouse and gateway to the Florida Keys. Homestead investment opportunities center on consistent, steady growth drawn from its four economic engines...agriculture, energy, military and tourism.
WELCOME TO

Portofino Plaza
South Florida business and commerce come alive with some of the most powerful economic drivers in the area:

• Homestead Hospital
• Homestead Air Reserve Base, US Air Force & Army
• Miami/Homestead Speedway
• Turkey Point Power Facilities
• Biscayne Bay National Park
• Everglades National Park
• The Florida Keys
• City of Homestead
• Miami Dade County
• Diverse Tourists Interests
• Florida Outlet Mall
• Federal Government

FEATURED AMENITIES

Portofino Plaza offers modern amenities and conveniences to enhance your business operations. Access, parking, covered pickup and drop off, on-site dining and services and high visibility with convenient entry from the Florida Turnpike, and Campbell Drive.
Annual Average Daily Traffic Count:
59,500 Turnpike/22,000 Campbell Drive
Professional Services, Dining and Retail
990 SF to 12,780 SF Available
Private Lobby Entrances Separate from First Floor Retail
24 Hour Keypad Access
Individually Controlled AC and Electric
Public Rest Room Facilities on all Floors
Oversized, Stretcher Cab Elevators
Hurricane Impact Resistant Construction and Windows
4.8 Parking Spaces per 1,000 Sq. Ft.
A Growing Business Destination
As Homestead benefits from Miami-Dades southern push for land, housing and employment, Portofino Plaza offers the perfect address for one of south Florida's truly unique business destinations.
Located 27 miles SW of Miami, Homestead offers an ethnically diverse population and a flourishing agricultural, energy, military and tourism industry. As a growing economic powerhouse, Homestead investment opportunities center on consistent, steady growth drawn from its multiple economic engines.
Retail and Executive Space Now Available.